I was not sure whether to write this or not but anyway decided to write this small post. Today marks 9 years of EXO's debut. I haven't known them for 9 years, but I've been stanning them since 2015. It was through an accident that I stumbled upon this group, but I never knew that I'd become an EXO-L. They taught some valuable life lessons and still motivates me to work harder each day.
I woke up today to the news that they are having a comeback soon, and it's been the best news I've heard so far. I was wondering what to post today and decided to rank my favorite EXO shows. EXO has been on some reality shows, varieties, and live shows, si I've combined them here and ranked them together.
Source: All credits to the images used here goes to the rightful owner. I own none of these pics.
10. Beatles Code ft. EXO and Brown Eyed Girls.
This show didn't have all the 12 members on the show, but it was entertaining nevertheless. It was also the first time I saw Baekhyun play the piano.
9. Weekly Idol EXO episodes
There are two Weekly Idol shows of EXO. Weekly Idol was one of my favorite Korean variety shows. It was the best way to get to know an idol group that has fun segments that would bring out a new side of the group. I must have watched EXO's Weekly Idol episodes at least ten times and will never get bored of it.
8. JYP Party People ft. EXO
I love watching the members sitting around, chat, spill their thoughts, and sing their favorite songs. This show gave the fans a chance to know what the members thought about dating or their future. It's one of the warmest shows of EXO so far.
7. EXO Twitter Blue Room (2019)
This one was during the Don't Mess Up My Tempo album promo. I was numb with laughter after watching this twitter live, and EXO was being their chaotic self in this show.
6. EXO Star Show 360
This was during the Lotto promo. This show was wholesome, with nine members spilling their secrets on national television. I'd just watch this show for Lay.
5. Mugi-Box EXO
Mugi-box EXO, aka, EXO being their loud, chaotic selves part 2. This show was full of games, Q&A, and tasks. I had to take out my earphones because things got a little bit out of control, and D.O. was so done with everyone.
4. Knowing Brothers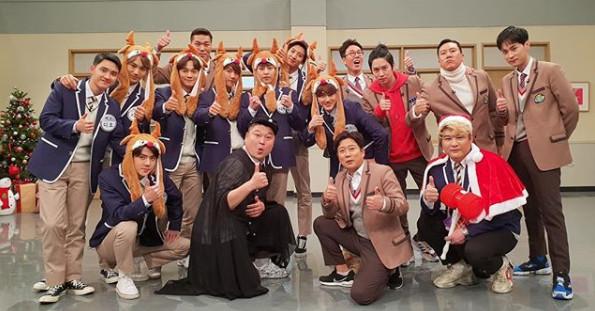 I won't say anything about this show. You should just watch all three episodes. They were ridiculous, added with Haikus and Tap Dance.
3. EXO Next Door.
Imagine if your favorite idol group moving next door. This web drama was short and cute. It was too hard to picture Chanyeol as the angsty artist shown in the drama, yet this one is definitely one of my all-time favorites.
2. EXO's Ladder: S2
All I remember from this show is how competitive everyone in the group is. This show left me ravenous even after having lunch or dinner, so I avoided watching it before having some food in my stomach so that it won't growl like I've been starving for months.
1. EXO Showtime
From Karaoke to vocal practice and shopping for Chanyeol's birthday and making new year's resolutions, this show brought out the essence of EXO to the fans. This show is closer to my heart and will always be my No.1 favorite show of EXO.