Hi everyone!
Meet my current hobby- to speak, read, watch, or obsess about Haikyuu!! All it took me to watch this anime was a 30-sec TikTok video. It's been a year since I last watched an anime, and this was the best choice to start over with. I usually watch Comedy, Slice of life, or Shoujo anime, so Haikyuu was a change I needed to try.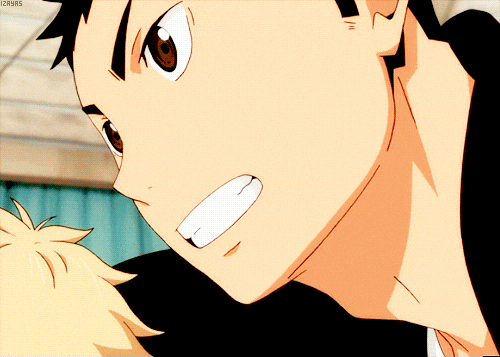 Initially, I was hesitant to start this series, but once I got to know the characters, their school, and all the rules, I was hooked to it. I'm not a sports fan, so I didn't see myself enjoying this anime. However, to my surprise, I binge-watched all the 4 Seasons in a week. Watching Karasuno grow as a team and individuals are one of the best moments of this anime.
I tried watching live Volleyball; it is so different than the anime version. Everything is slowed and zoomed for the viewer in the anime, so you have time to understand where the ball is, but real Volleyball happens too fast, and by the time I track the ball, someone would have socred a point.
I highly recommend this anime (not the dubbed version). It was a superb series to watch in Japanese. I'm too hyped for the next season and hope that the next match outdoes the previous one.
When I googled this tag, it came up with one from a BookTuber. I thought of creating one myself, but mine didn't seem to have a theme and felt random. So I took the easy root and went with the readily available one. You can view the original tag here. I have changed a few questions in this post, but I'll be listing the questions posted by the creator below.
MidnightReader's questions:
Yukigaka: A middle-grade book with a red-haired main character.
Kitagwa Daiichi: A standalone middle-grade novel.
Johzenji: A book that takes something from another book, but doesn't do it near as well.
Date Tach: A book or series told in multiple POVs.
Shiratorizawa: A book that deserved the hype it got. (Can't be Harry Potter)
Fukurodani: Your most anticipated book of the year. (Try to keep it to your top 3)
Aobo Johsai: A beloved series that recently finished (within the last year).
Nekoma: A book or series that includes a cat ether on the cover or in the story.
Karasuno: A book where you wanted the main character to be gay/Lesbian/Bi/etc.
Haikyuu!! Book Tag
Nohebi //
An Overlooked Book.
The Stolen Kingdom was one of the good standalone fantasies I've read. If we leave out the insta-love trope, the book was equally dark and light, filled with court politics. I enjoyed it very much, and recommend it to all.
Kitagawa Daiichi //
A Standalone middle-grade novel.
I couldn't have picked any other MG book for this. The Bewitching of Aveline Jones was spooky and haunting. It might have been a small book, but the descriptions and characters bring out the essence of the story.
Inarizaki //
Favorite Duo in a book
Fred and George Weasley will always be my favorite duo. I picked them because they reminded me of the Miya Twins. There are many duo's I've come across, but these two stand out for their wicked sense of humor and wit.
Date Tech //
A book or series told in multiple POVs.
I didn't want to put Six of Crows or Chain of Iron here, so I went with Only Time Will Tell. This was my first Historical fiction with multiple POVs, with a story I never thought I'd end up liking. I have the second book on my Kindle and have to read it someday. Some of the things that went down in this book took me by surprise. I never expected it to end the way it did, predicted it, but still didn't think it was going to take that path. I guess you have to make things more complicated for the readers to stick to a long series.
Shiratorizawa //
A book that deserved the hype it got.
This book blew up on Book Twitter last year. Almost everyone was recommending or speaking about it, and I tried to avoid it at all costs. I'm not huge of the original Romeo and Juliet play and didn't want to add more books to that pile. But once I read this, I changed my mind. These Violent Delights deserves all the hype. The writing was fabulous. I went in expecting Historical fiction, but it was more than that. It fused romance, mystery, fantasy, and colonization together and gave a wonderful story to hold onto. I've got to say, this one precedes the original on many levels and is the best retelling I've read so far.
Fukurodani //
Your most anticipated book of the year.
This edition of Wicked As You Wish is releasing in October 2021. I'm planning to continue with the Bone Witch series and then pick this book. By October, I think I'll be ready to start this story.
Aoba Johsai //
A beloved series that you recently finished
A Dark fantasy series that has a solid magic system, with multiple Londons, elemental games, a riveting storyline, and what else could I ask for! I absolutely adore this series for the elemental magic and the characters, and can't wait to reread it!
Nekoma //
A book or series that includes a cat either on the cover or in the story.
I found this book on my Teacher's desk, and it caught my eye. I don't remember if this was the cover or the older version but, after reading the synopsis, I added it immediately to my TBR. I haven't read a single Russian Classics or historical fiction yet, so I'm looking forward to reading, at least, this one.
Karasuno //
Best Found Family Book
A group of misfits who wouldn't have become closer if not for the miserable situations they were put through. Brigid Kemmerer YA novels have a different spell on me than her Fantasy one. I hold Call it What you Want and Letters to the Lost close to my heart because they have one of the best found-family rep in them.
I tag: Anyone Interested can Consider themselves Tagged
P.S. I used Karasuno's color palette for today's post for a change.Hope you enjoyed reading this book tag.