Hey guys! Today I'll be posting a blog tour post instead of my Quote it Sundays post. So there will be no quotes for today, but I'll be speaking my thoughts on this book.
Happy Sunday! and without any further ado, let's dive into the blogtour.
---
BBNYA is a yearly competition where book bloggers from all over the world read and score books written by indie authors.
If you are an author and wish to learn more about the 2021 BBNYA competition, you can visit the official website or their Twitter account, @BBNYA_Official. If you would like to sign-up and enter your book, you can find the BBNYA 2021 AUTHOR SIGN UP FORM HERE. Please make sure to carefully read their terms and conditions before entering.
If you are a book blogger or reviewer, you can apply to be part of BBNYA 2021 by filling out this form (also remember to read the terms and conditions before signing up)!
BBNYA is brought to you in association with the Folio Society (If you love beautiful books you NEED to check out their website!) And the book blogger support group TheWriteReads.
Calico Thunder Rides Again is simply fantastic and magical!
About the Book:
Title: Calico Thunder Rides Again | By: T. A. Hernandez
Published on: November 5th 2019 | By: Sanita Street Publishing
Pace: | Pages: 200 | Age: 9+ | Standalone | Genre: Fantasy
Buy Book On: Amazon | Book Depository | Kindle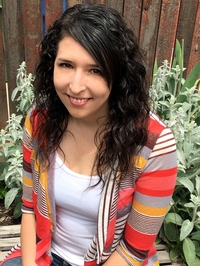 About The Author:
T. A. Hernandez is a science fiction and fantasy author and long-time fan of speculative fiction. She grew up with her nose habitually stuck in a book and her mind constantly wandering to make-believe worlds full of magic and adventure. She began writing after reading J. R. R. Tolkien's The Lord of the Rings many years ago and is now is happily engaged in an exciting and lifelong quest to tell captivating stories.
She is a clinical social worker and the proud mother of two girls. She also enjoys drawing, reading, graphic design, playing video games, riding her motorcycle, and making happy memories with her family and friends.
You can find the Author on:
Ladies and gentlemen, boys and girls, welcome to the Most Fantastic Show on Earth…
Three years ago, the Ban changed everything, outlawing certain forms of magic and bringing about the rise of powerful crime syndicates. Now, speakeasies in every city sell illegal charms and jinxes, and bootleggers traffic restricted potion ingredients across the country. But even in this changing world, the magic of the circus still acts as a wondrous escape and provides entertainment for all.​
Jake Strickland owns one such circus, inherited after an accident ended his career as a rodeo dragon rider. He also inherited the circus' financial troubles, but since the show became his, he's slowly managed to turn it into a profitable business once more. Or at least, that's what he thought.
When a dangerous mobster comes to collect an old debt, Jake resorts to desperate measures to get the money before a strict deadline. With lives and livelihoods at stake, he battles the clock, his responsibilities to the circus, and a longstanding personal grudge that has festered for years. Can he pay back the mob before it's too late?
I received this book to read and review as part of the BBNYA tours organised by the @The_WriteReads tours team. All opinions are my own, unbiased and honest.
Triggers: Physical Assault, Animal Violence and Abuse Mentioned.
I picked this book because it involved dragons and circus. I read one book based on a circus last month and was looking for books like that. That's when I came across this one on Twitter and wanted to read and review it for this blog tour. I'm so happy to be part of this blog tour.
The prologue of this book pulled me right into the story. You get to view the circus from an audience's POV. Then the actual story starts and is narrated from a third-person narrative through Jake's lens.
The prologue is important to the story. There is a slight twist in the last quarter of the book that includes the character that appears in it. I had forgotten about that part because I was so involved in knowing what was going to happen to the circus and how things would progress. I don't know if that was intentional or just my memory, but it still caught me unawares.
In the beginning, we are introduced to some of the members and the animals of the circus. We get a glimpse at their routine and how everything runs on-stage and off-stage. By the end of the 10th chapter, you get used to their routine as well.
The story is kept simple. It's not too drawn out or too short. It had so many magical creatures likes Hippogriffs, Griffins, Ogre, Dragon, Fairies, Giant spiders, Basilisk, and many more. One thing I love to see in Fantasy novels are these kinds of mythical creatures placed in stories. I've always loved stories that involve them. So this inclusion made me like the story more.
I can say every little about the characters because the book mostly focused on the story and not on exploring its characters.
Jake was a responsible guy. He took over the circus after his father's death. Jake had some issues with his father because he was never there for him or his mom. He was closer to some of them in the circus than with his father. Grace was an optimist. She was thoughtful, and the circus was her home. She was there for Jake whenever he needed solid advice or someone to rely on. They were a cute couple together.
Bruno, the dwarf, was my favorite besides Jake and Grace. He was a good friend and the best enchanter in the book. I liked how enchantments were used and worked in the book. It was a very functional tool in the book.
Then there was Calico Thunder (the dragon), Bullseye, and Trigger (Griffins), whom I liked too.
The magic aspect of this book mostly involved glamour, charms, enchantments, and potions. Charms and Jinx were forbidden and banned magic. The characters mostly used different charms to accomplish their tasks. It was also interesting to see how glamour worked in the book.
Overall, this book is fast-paced, and each chapter flows smoothly into another. It's short, different from the length of the books I usually read. So if you're looking for a quick fantasy-read, then you should definitely pick this one.
My Rating: 3.5 Rounding off to 4
---
Have you read this book or will you read it? Let me know your thoughts in the comments.